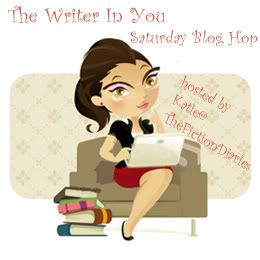 The "Writer in You" Hop is hosted by Katie at The Fiction Diaries. This is a fantastic hop for writers meet other writers, share tips, experiences, etc., all while gaining new followers! To learn more about this hop, just click here to visit, and join in on the weekly fun.
Q: What is your favorite thing about your current WIP?
I have a few in the works right now. My muse is always running top speed it seems (not that I'm complaining). I'm currently working on the second installment of my Guardians of the Night trilogy, and it's running smoothly. My favorite thing? How much the characters are growing and the outrageous twists that my readers are going to be in for in this one. It's been a blast to write.
And though it's definitely the WIP I should be focusing on as the most important one, I'm finding that the most recent novel I've started has taken a front seat to everything lately. It's completely outside of my normal writing genre and style, yet the story is just flowing insanely well. I never thought in a million years I could sit down and write a YA Contemporary Romance (I highly enjoy reading them though!), but it's working out much better than I expected. It's sad that I use some of my own real life experiences to build my characters' lives and events here, but at the same time, it's crafting one of my favorite writing projects so far.
Happy writing!
Love,
Pixie